Nanchang Mineral Systems Co., Ltd. (hereinafter referred to as "NMS") achieved an operating revenue of 462 million yuan, an increase of 23.74% year on year in the first half of 2023. The net profit attributable to shareholders of the listed company was 62.2356 million yuan, an increase of 5.59% year on year in the same period. At the end of the reporting period, the total assets of the company were 2.097 billion yuan, an increase of 57.22% compared to the beginning of the year. The net assets attributable to shareholders of the listed company were 1.342 billion yuan, an increase of 139.69% compared to the beginning of the year. Overall, NMS's performance exhibited steady growth.
Prominent R&D Innovation Advantages Ensure Continuous Product Innovation
NMS possesses outstanding research and development capabilities, technological innovation prowess, and industry influence. Over the years, through extensive technological research, innovation, and accumulation, NMS has obtained key new product certificates in Jiangxi Province for multiple products and received numerous accolades and awards from authoritative bodies such as the Ministry of Industry and Information Technology, the China Machinery Industry Federation, the China Mechanical Engineering Society, the Jiangxi Provincial Department of Industry and Information Technology, and the Jiangxi Provincial Department of Science and Technology. As of the disclosure date of the semi-annual report, NMS has six core technical personnel and 74 R&D professionals, accounting for 9.95% of its workforce. NMS holds 496 authorized patents, including 30 invention patents, 461 utility model patents, and 5 design patents. Additionally, NMS is a member unit of the China Mining Machinery Standardization Technical Committee and has participated in the formulation of numerous national and industry standards, including drafting six national standards and independently drafting 6 industry standards. NMS is a national high-tech enterprise、a national specialized and sophisticate "Little Giant" enterprise, a single-item demonstration enterprise in the manufacturing industry in Jiangxi Province and a benchmark enterprise in intelligent manufacturing in Jiangxi Province. Additionally, It has been granted approved to establish national postdoctoral research stations, provincial postdoctoral innovation practice base, municipal doctoral research innovation centers, provincial enterprise technology centers, and other research bases.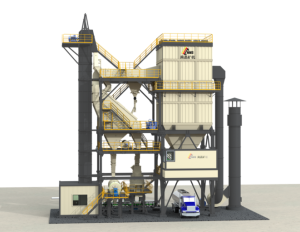 NMS's MSP Sand-making Plant
In August 2022, two technologies of NMS, namely " Hydraulic High-Frequency Screen Equipment Technology" and "Large Single-Cylinder Hydraulic Cone Crusher Technology ", were selected into the " Catalog of Advanced and Applicable Technologies for Conservation and Comprehensive Utilization of Mineral Resources (2022 Edition)" published by the Ministry of Natural Resources, This demonstrates that the NMS's technological advancements have received authoritative recognition from both national and industry regulatory bodies. In May 2023, NMS's "MSP200 Sand-making Plant" was recognized as the First Prize of Outstanding New Products in Jiangxi Province in 2022.
Positioning High-end Clients within the Industry Lays the Foundation for Business Development
 NMS is positioned as a domestic, high-to-mid-range brand in the crushing and screening equipment sector. NMS adheres to the "high-end client within the industry" strategy, primarily serving large state-owned enterprises, publicly-listed companies, and major private enterprises. Its products have been utilized in several nationally significant construction projects, including the Three Gorges Project, Baihetan Project, Fangchenggang Nuclear Power Plant, and Ling'ao Nuclear Power Plant. Moreover, NMS has entered the supply chains of large domestic and international construction companies (such as Power Construction Corporation of China, China Energy Engineering Group Co., Ltd, China National Nuclear Corporation, China General Nuclear Power Corporation), large building material companies (including Anhui Conch Cement, Huaxin Cement, China National Building Material Co., Ltd), major mining companies (such as China Baowu Steel Group Co., Ltd, Angang Steel Group Limited, Zijin Mining Group, and Jiangxi Copper Co., Ltd), and large multinational corporations (like Lafarge in France, HeidelbergCement in Germany, CRH in Ireland).As the industry trends towards equipment being larger, more integrated, environmentally friendly, and smarter, and with increased consolidation of downstream small and medium-sized mines, high-end clients in the industry will continue to gravitate towards leading crushing and screening equipment enterprises. Capitalizing on its existing reputation and benchmark project cases, NMS is poised to seize new business opportunities within this high-end client segment in the future.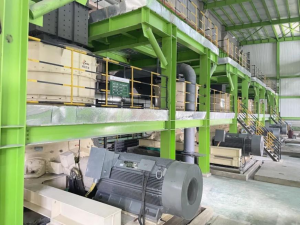 NMS's CC800 Applied in Bensteel Group's Project
In 2022, the company signed a major cone crusher sales contract with Ansteel Group's subsidiary, Bengang Group. The equipment model is the largest in the NMS's cone crusher lineup, the CC800, with a contract value exceeding tens of millions of RMB. This marks the recognition and collaboration of the NMS with a leading customer in the metal mining sector, laying a solid foundation for the company's vigorous development in the metal mining business. Currently, the equipment is in operation.
The Aftermarket Business Holds a Clear First-mover Advantage and Represents a New Growth Driver for the Future
As competition intensifies in the domestic crushing and screening equipment market, the competition strategies among high-end brands will extend towards the backend of product sales, focusing on areas like aftermarket technical services. Currently, the development of aftermarket service models, represented by foreign leading companies like Metso of Finland, in the industry has matured significantly. Their revenue from operation and maintenance services consistently exceeds that from equipment sales, accounting for nearly 50% according to Metso's 2021 annual report, making it the most significant driver of their revenue growth.
In recent years, NMS has been continuously exploring and advancing in the aftermarket technical service sector, and it has already established a profitable business model. As one of the domestic companies pioneering backend services and offering customized services among local brands, NMS enjoys a significant first-mover advantage. Operation and maintenance services not only become a new source of profit growth for NMS but also create a positive feedback loop with product development, manufacturing, and sales. The emerging "equipment manufacturing + services" development model will fully leverage synergies and cover a larger market.
Looking ahead, NMS will continue to invest in research and development, break through key core technologies, build strengths, enhance core competitiveness, simultaneously strengthen its presence in the business field, delve deeper into understanding and meeting customer needs. NMS aims to create value for its customers through high-quality products and services.